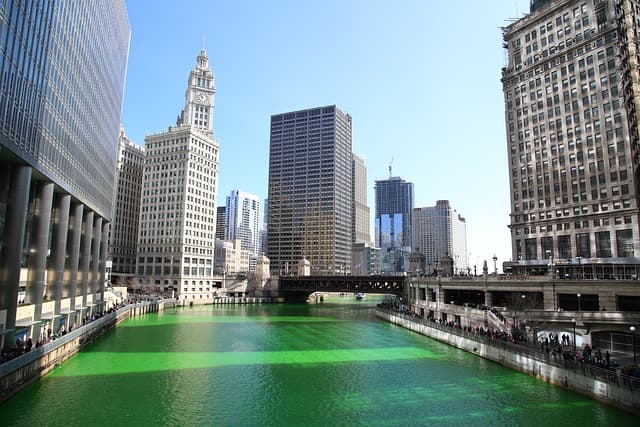 From deep-fried pizza to Michelin-starred restaurants, Chicago is one of America's greatest cities for fine dining. Add to that fantastic views of the famous downtown area or the sparkling waters of Lake Michigan, and you'll turn any meal into a truly memorable experience.
Here are Chicago's best restaurants with a view
Want to dine with a view of Lake Michigan? How about atop a skyscraper with a panoramic view? Or maybe have a drink on Navy Pier? Whether you want to enjoy a waterfront view or sit at a table by the window overlooking the Magnificent Mile, these Chicago restaurants offer the best vistas in town.
Chicago City Cruises
Why just sit back and enjoy the view when you can be in the view? By sailing on a City Cruises ship, you can enjoy an upscale brunch, lunch or dinner as you sail past the Chicago skyline on Lake Michigan.
During the day, you'll admire towering downtown Chicago skyscrapers like the John Hancock Center or Lake Point Tower and lakeside city parks like Millennium Park and North Avenue Beach, and on a night cruise, you'll see the illuminated city skyline.
Along with great food and stunning views of the Windy City, our dinner cruises also include music and a full bar.
Offshore Rooftop
Located on the far end of Chicago's Navy Pier, this open-air rooftop bar holds the honor of being the largest rooftop dining venue in America. Sit back in the comfortable chairs and enjoy panoramic views of Lake Michigan and downtown Chicago.
Sightseeing and Drinking Cruise on the Chicago River
Lake Michigan isn't the only body of water in Chicago worth navigating. The 156-mile-long Chicago River winds through downtown and trendy neighborhoods like River North, surrounded by towering towers, skyscrapers and the tallest residential buildings in the city.
A Sights & Sips cruise on the Chicago River is the perfect way to see downtown. You'll sail past iconic landmarks like Tribune Tower and the Wrigley Building while sipping craft cocktails, beer or wine and snacking on passed hors d'oeuvres.
Beatnik on the River
With its bright tile mosaics, bold colors, intricate patterns, and lush greenery, this popular spot for international cuisine and weekend brunch is one of the most Instagrammable restaurants in Chicago. And with breathtaking views of the river and glass skyscrapers, a prime location right on the Chicago River, this global restaurant takes it to the next level.
River Roast
Perched on the side of a red brick building right on the banks of the Chicago River, this lively social hangout attracts diners not only with its unrivaled riverside location, but also with its British-focused menu featuring delicious roast beef, fish, and chicken.
Utopian Tail
As the name implies, this rooftop bar and patio located in Chicago's Old Town has great views of Lake Michigan and the surrounding neighborhoods, as well as a fun and free-spirited atmosphere.
The outdoor dining area mimics a garden party: brightly colored furniture, hanging chairs, tire swings, lots of plants and greenery in a wide astroturf space. You can play lawn games like giant Jenga or cornhole while enjoying alcoholic cocktails and casual fare including sliders and pizza.
Cindy's
Housed in a glass dome with an outdoor patio next to Millennium Park, this rooftop bar/restaurant is known not only for its views of the park and Lake Michigan, but also for its exquisite seasonal dishes.
Oliva Coffee
For delicious burgers and refreshing shakes right on the sunny Lake Michigan waterfront, there's nothing better than Caffè Oliva. Open during the summer season along Ohio Street Beach, this cozy and casual establishment is literally steps away from the sand and surf.
The Signature Room at 95th
With floor-to-ceiling windows offering top-notch views of the Chicago skyline, this majestic restaurant on the 95th floor of 875 North Michigan Avenue is one of the best restaurants for epic cityscapes. For a more casual experience, go up one floor and enjoy cocktails at the Signature Lounge on the 96th.
North Pond
Overlooking an idyllic pond in Lincoln Park, this haute cuisine restaurant feels like a world away from the hustle and bustle of the city.
The North Pond Restaurant building was built in 1912 and exudes historic charm with warm wood paneling, rustic stone walls and large windows overlooking the water with skyline views. It's the perfect spot for romantic dinners, thanks to a menu of upscale American cuisine using locally sourced ingredients.
From Lake Michigan and Lincoln Park to the Chicago River, the views from these Chicago restaurants are incredible.
Dining out in Chicago is one of the best ways to experience the city, but if you choose a restaurant or City Cruises with a beautiful view, you can combine two of the Windy City's best attractions: city views and great food.