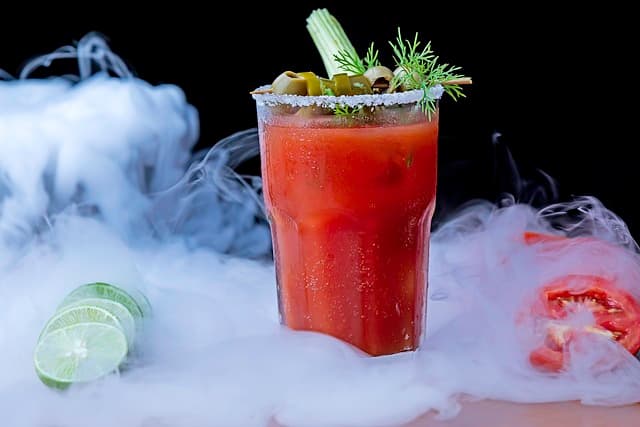 Chicago used to be famous for hot dogs, but now it's great meat and new establishments that people specifically come to the city for.
Restaurant Vincent
Best bloody mary in town. Friday night, Saturday morning, Sunday afternoon she will fix your health. Also of note is their love of gin, over 20 kinds. The menu is small but very elaborate, the food is cooked deliciously, there are always specials. It's worth noting that the menu changes and is updated frequently. Dimmed lights, nice dressed up crowd, perfect for a date. In summer and warm fall, you can sit outside and consider passersby over conversation. The appetizers are wonderful, and the lamb burger is above and beyond praise.
A visit is a must, tables fill up lightning fast by 7-8pm. Average bill for two without alcohol 50-60 dollars, with alcohol 80-100 dollars.
Restaurant Found
Restaurant with its own philosophy and style. Opened in the Chicago suburb of Evanston, home to one of the most prestigious universities in this part of Northwestern. Everything in the restaurant strives to make you feel cozy, warm, good, and yes so that you don't want to leave for a long time. Or come back soon, like you're visiting an old acquaintance. The menu has a great variety for fans of vegetarian food, lovers of bread and pastries. I especially recommend the kale salad, the chicken liver mousse with onion and bacon confit, and the cheese menu.The average bill for two is 30-50 dollars.
J.P. Graziano Grocery store
This particular grocery store is where muscular men make some of the best sandwiches in town. Just freshly baked Italian baguettes, veggies, fresh cheese, great Parma ham or salami. And it's a ready-made lunch for the day. On top of everything, homemade cannelloni for $2.50 each. There's homemade mozzarella and ricotta in the fridge. Also, olives, cheeses, Parma ham, dried tomatoes, and all sorts of produce from Italy. If you decide to take a stroll through Chicago's west side neighborhoods and see its industrial area, be sure to stop by and grab a "picnic to go".
The girl and the goat
The restaurant epitomizes the philosophy of local consumption. All of the produce on the menu is from local farmers with whom the restaurant owners get to know and develop a "personal" relationship. Chef Stephanie is extremely picky about the quality of meat, making sure that animals are kept in respect and love. The restaurant's menu is divided into three sections: vegetables, fish and meat. Bread is baked daily at the restaurant. Sometimes Stephanie collaborates with a small local brewery. The food is prepared deliciously and lovingly, and the atmosphere is conducive to talking to your neighbors at the nearest table. I recommend the wood-roasted broccoli, grilled octopus, and tongue. They also serve oysters. The cost of dinner for two without alcohol is 40-50 dollars.
Uncommon ground
This place is known for its unique atmosphere, products of local farmers, very diverse menu, as well as surprisingly light tasty cocktails. In the evenings, small concerts are held here, but you can always retreat to another room and enjoy the company of friends. The lounge with armchairs and fireplace is particularly popular. The menu is constantly changing, depending on the season and the products of local farmers. A must-try is the baked artichoke with goat cheese, pumpkin ravioli and the Q7 burger. The cost for lunch for two without alcohol is $30-$40.
Mana Food Bar
Open from 4pm, so don't miss out. Vegetarian restaurant with excellent cuisine and variety of dishes, in 2009 won the nomination for the best new vegetarian restaurant. Cold, hot, smoothies, fresh juices and healthy shakes. A whole philosophy of healthy eating in one place. They have a separate takeaway menu designed for people working in the neighborhood. I suggest trying the Panzanella, Caponata, Curry and pumpkin ravioli. The average bill for two without alcohol is $30-40 dollars.
Lula café
On Mondays, this place hosts "farm dinners." For a certain amount of money (34 without alcohol, 58 with alcohol), a pre-designed full menu is served. On other days, the dishes are amazingly varied and well-chosen. Of course, local farmers' products are used, everything is fresh, which you are reminded of at the first opportunity. Every night the menu changes, depending on the produce. I recommend the savory apple soup, chips and dip and slow roasted pork shoulder. The average bill for two people is 50-60 dollars.
Tre Kronor Restaurant
Swedish restaurant in the Swedish neighborhood of the city of Chicago. Several cozy lounges and patio where breakfast on weekends is a pleasure. The restaurant has been around since 1992 and was opened by two people in love with delicious food. There are no gourmet entrees on the menu, but each dish is beautifully executed and served. Their Oslo omelette with Norwegian salmon or Eggs Benedict are above reproach. And for dessert you just have to have a cinnamon bun, which are baked right in the kitchen. In general, it is worth noting that all the dishes and breads are made in the restaurant itself. It's like stopping by your favorite grandmother's house for breakfast. Or lunch. Or dinner. The important thing is that this grandmother sure knows how to cook. The average breakfast for two people is 20-25 dollars.
The Purple Pig
There's a small but wonderful little restaurant downtown – The Purple Pig. A few communal tables, bold colors combined with an abundance of wood and just the right acoustics make the establishment an extremely appropriate place for a weekend dinner. The menu was created by three well-known Chicago chefs inspired by Italian and Spanish cuisine. Portions are small, but the combination of flavors is perfect, assuming portions are shared among several people. The wine list is excellent and well-chosen. Due to the fact that the restaurant is small, the queue can sometimes take an hour, but in the meantime you can enjoy a glass of wine overlooking the river. The cost of dinner for two with alcohol is 50-60 dollars.