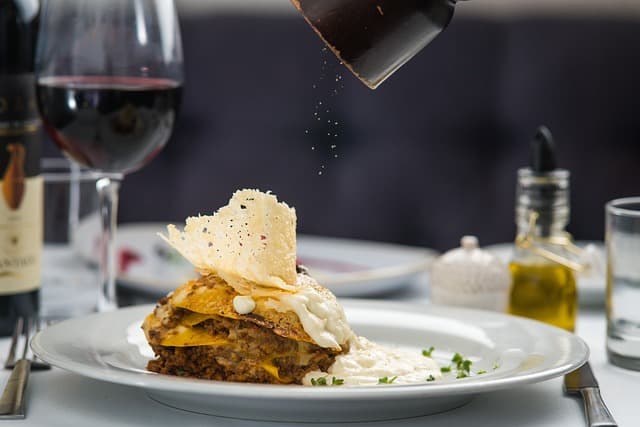 In a city that is home to 22 Michelin-starred restaurants ranging from experimental and artistic establishments to more modest brasseries, Chicago has earned its reputation as the place to go for dinner for a reason.
Located in downtown and nearby neighborhoods, the following restaurants not only offer some of the city's best specialties, but also incorporate many experimental elements that guarantee a feast for the senses. Here are our picks for the best restaurants in Chicago.
Acadia
Inspired by the coast of Maine, Acadia is an experience worthy of a South Loop destination. Chef Ryan McCaskey's acclaimed, two-Michelin-starred restaurant offers two distinct experiences. First, Acadia Bar offers an inventive menu with unexpected twists on traditional dishes like lobster rolls and steak frites. Second, the 10-course tasting menu and wine pairings offer virtuoso flavor combinations that are simply unmatched. Reservations for the tasting menu are highly recommended.
Oriole
Chicago's vibrant West Loop neighborhood is home to many fine restaurants, but few are as exquisite as Oriole. Two Michelin-starred Chef Noah Sandoval presents an exquisite multi-course tasting menu bursting with Japanese influences and unexpected ingredients. In collaboration with renowned mixologist Julia Momose, who offers specialty cocktails, and sommelier Aaron McManus, who offers an elegant old world wine list, Oriole is an exceptional option that deserves to be at the top of your list when visiting the city.
Smyth
With Smyth haute cuisine restaurant and The Loyalist burger and cocktail restaurant on the first floor, John Shields and Karen Urie Shields are taking the culinary experience to the next level. Smyth's two-star restaurant features upscale, rustic-inspired tasting menus that change daily based on the couple's trips to the farm. Dishes that are both robust and delicate, imbued with Midwestern charm, are the ultimate in cuisine.
Bohemian Group
Chicago loves its breweries, so it makes sense that one of them would be honored with a Michelin star. Located in the quiet Ravenswood neighborhood, Band of Bohemia offers plenty of tasty finds, including craft beer. Since the brewery offers an a la carte and tasting menu at reasonable prices, dining here is worth the Uber experience.
Blackbird
For a taste of Midwestern cuisine at its most imaginative, be sure to visit Blackbird Restaurant. This Michelin-starred restaurant has been a local favorite for over two decades and is one of the best places for any sophisticated foodie. Dinner is offered a la carte, with a generous approach to flavors, accompanied by a solid wine list, while lighter options are available as a more than reasonable lunch menu for $28.
Alinea
At Chicago's Alinea, reigning three-Michelin-starred chef and world-renowned chef Grant Achatz offers an unrivaled dining adventure. Here you will find experimental and theatrical cuisine at its best. Prepare to be blown away by the creativity and craftsmanship of the work. Three multi-sensory services make up the Alinea experience: the intimate and exciting "Kitchen Table," the 16-18 course "Gallery" menu or the 10-12 course "Salon" menu. Changing menus according to the seasons, Alinea stays true to their favorite dishes, including edible balls. As one of the most sought-after restaurants in the country, it's worth planning your trip to Chicago with reservations in mind – expect a line.
Boca
A Chicago favorite thanks to the inimitable culinary talents of Chef Lee Wolen, Boka prides itself on its culinary expertise and has the Michelin star to prove it. The restaurant's specialty is modern seasonal American cuisine, with a mix of small plates and more substantial dishes. However, if you're looking for more advanced dishes, the eight-course tasting menu is one of the best in town and is a good investment for a first visit to Boka Restaurant.
Elske
Elske is a Danish word meaning "love," and that's exactly what the husband and wife team behind the restaurant puts into each dish. Chefs David and Anna Posey invite you to feel like you're having a weekend lunch at the home of a stylish Scandinavian friend. There's an intimate and friendly atmosphere, hygge-inspired décor and an open kitchen. Choose between the stellar tasting menu or the a la carte menu, all options offer a unique freshness of flavors in combinations that are quite pleasing to the palate.
Parachute
Beverly Kim and John Clark's Michelin-starred restaurant Parachute has been making a splash on the Chicago restaurant scene and beyond for years. It offers a completely unique approach to contemporary Korean-American cuisine. Offering pure culinary innovation and ingenuity, Parachute creates dishes with eclectic flavors. To get the most out of your visit, let the friendly servers advise you and even choose for you – and then sit back and prepare to be overwhelmed. Reservations are highly recommended.
Antanta
Recently relocated to a new space on River North, Entente offers a casual approach to Michelin-starred dining. Pushing the boundaries of modern American cuisine with a pan-Asian twist, it offers a solid seasonal menu of changing entrees and appetizers, complemented by excellent wines and cocktails. It's a must-visit spot in Chicago.